BFGoodrich is a 150 year old company and having roots that deep means they have the knowledge base and resources to develop and produce some of the very best performance tires the world has to offer. Heavy winning involvement in motorsports -- on and off the road -- not only proves their tires are superior but also are a constant testing and proving grounds for future development. It's a heavily reinforced virtuous circle much like their tires. History will show the pervasiveness of the iconic brand through pop culture, appearing on vehicles such as the A-Team van, the Back to the Future Delorean and the General Lee from the Dukes of Hazzard, just to name a few. It is the real world experience, from mean city streets to the Baja 1000 and everything in between, that allows BFGoodrich to continue to excel, to build on previous achievements and bring new innovations in tires.
BFGoodrich Pros and Cons
Exceptionally long history of developing and producing tires

Focused upon sports cars and trucks providing leading models in those categories

BFGoodrich is a US company, wholly owned by Michelin, making for a vast collective of tire knowledge

Narrow focus of tires models means not all vehicles are covered or have an optimal choice

Performance-oriented tires means there may be some compromises made in other desirable tire aspects
Best BFGoodrich Tires by Car Type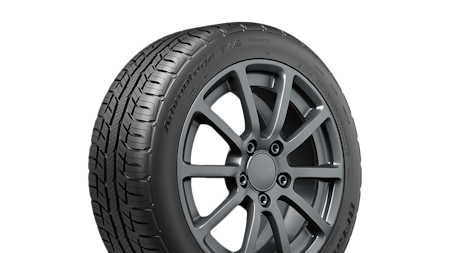 Advantage T/A Sport
Best for Passenger Cars
See Prices
A good overall all-season tire for most vehicles - having a wide range of fitments and a broad envelope of street tire characteristics, the Advantage T/A Sport has a symmetrical tread design that allows for cross-rotation. Cross-rotation of tires allows for some unwanted characteristics of irregular tire wear to be lessened. The Advantage T/A Sport comes in sizes ranging from 15" to 19".
Specs:
Brand: BFGoodrich
Model: Advantage T/A Sport
Available Sizes: 15", 16", 17" ,18", 19"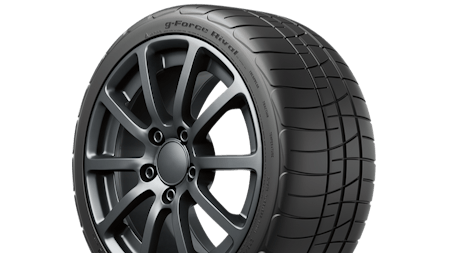 g-Force Rival S 1.5
Best Performance Tire
See Prices
When the utmost in street and track-day performance is required, the g-Force Rival S 1.5 is a top choice. Keep in mind here - this is a short-lived tire. Sporting a UTQG rating of only 200, tread depth that starts at 7.2/32" and a statement that "Shaving is NOT required", the g-Force Rival S 1.5 is intended for use at the extreme end of the high-performance summer-only spectrum. Essentially, this is a DOT street legal racing tire that will maximize the performance potential of your weaponized street machine.
Specs:
Brand: BFGoodrich
Model: g-Force Rival S 1.5
Available Sizes: 15", 16", 17", 18", 19"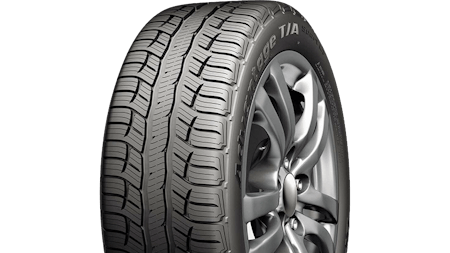 Advantage T/A Sport LT
Best SUV Tire
See Prices
Specifically designed for light trucks, SUVs and crossovers, the Advantage T/A Sport LT is BFGoodrich's answer for those preferring a responsive tire that will also provide confidence in inclement weather. The confidence is imbued in part by the 3PMSF (3 Peak Mountain Snow Flake) branding. For those needing the all-weather performance that your truck or SUV can deliver, pair it with a set of these long-lasting tires.
Specs:
Brand: BFGoodrich
Model: Advantage T/A Sport LT
Available Sizes: 15", 16", 17", 18", 19"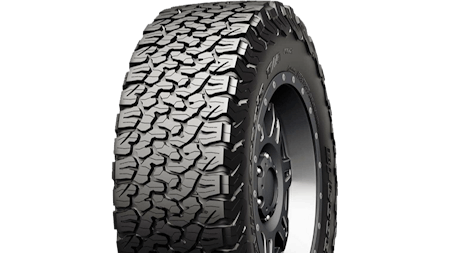 All-Terrain T/A KO2
Best Truck Tire
See Prices
This is the second generation (hence the "2" in the KO2) brand-making all-terrain tire from BFGoodrich. Specifically designed to deliver optimum traction both on- and off-road, the All-Terrain T/A KO2 is one of the most sought-after tires for the truck and Jeep crowds. Continuing the highly-acclaimed success of the original KO, the KO2 superbly blends all-terrain, all-weather traction in a package that is liveable even when long-stretches of dry asphalt separate you from your remote off-the-beaten-path destination.
Specs:
Brand: BFGoodrich
Model: All-Terrain T/A KO2
Available Sizes: 15", 16", 17", 18", 20"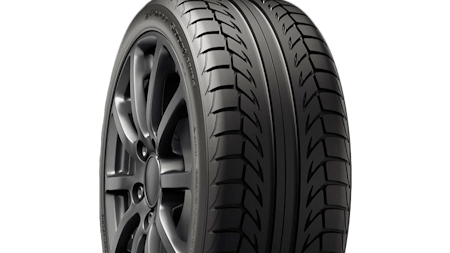 g-Force COMP-2 A/S PLUS
Best All Season Tire
See Prices
The unique wraparound wide-shouldered tread design combined with BFGoodrich's ULTIGRIP technology provides superior directional stability for a sporty feel in all weather conditions. Designed with modern performance oriented sedans and coupes in mind, putting the power down in wet, dry and even wintertime conditions is this tire's forte. The g-Force COMP-2 A/S PLUS is available in sizes 16" to 20".
Specs:
Brand: BFGoodrich
Model: g-Force COMP-2 A/S PLUS
Available Sizes: 16", 17", 18", 19", 20"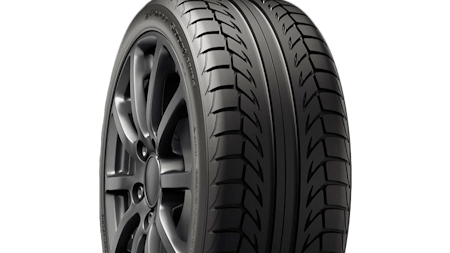 g-Force COMP-2 A/S PLUS
Best Winter Tire
See Prices
BFGoodrich does not produce a winter-specific tire so by default, the tire with the best snow traction is what makes the g-Force COMP-2 A/S PLUS also makes it BFGoodrich's best winter tire. Note also that for trucks and SUVs, the All-Terrain KO2 has the 3 Peak Mountain Snowflake symbol for superior winter traction. Should you need a step-up in cold-weather snow traction, look to sister company Uniroyal or parent company Michelin.
Specs:
Brand: BFGoodrich
Model: g-Force COMP-2 A/S PLUS
Available Sizes: 16", 17", 18", 19", 20"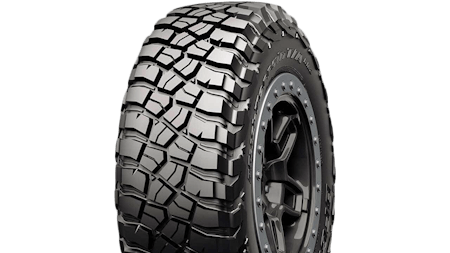 Mud Terrain T/A KM3
Best Off Road Tire
See Prices
The Mud Terrain T/A KM3 is the third generation of tires that get you way off the road and into where mud, dirt and rocks are the path to happiness. When you depend upon durability and traction to overcome obstacles in your dedicated Jeep, truck or full-sized SUV, choose the Mud Terrain T/A KM3 to get you there and back with the confidence that allows you to enjoy the rough and tumble ride.
Specs:
Brand: BFGoodrich
Model: Mud Terrain T/A KM3
Available Sizes: 15", 16", 17", 18", 20"
Reason to Choose BFGoodrich Tires
BFGoodrich has had plenty of time to perfect it's craft. Founded in 1870, BFGoodrich was the first to manufacture pneumatic rubber tires, tubeless tires and radial tires - all of which were a leap forward in tire technology. Technical innovation has always been a part of BFGoodrich - so much so that Michelin purchased the company in 1990 to fill out an already impressive portfolio.
BFGoodrich is fully subscribed to the old adage of "Race on Sunday, Sell on Monday" - using motorsports racing to test and showcase their products. BFGoodrich is a highly focused tire company - while lacking in diversity of products, the ones they do have are the tops of their field and are critically acclaimed. On road or off, performance is the number 1 priority.
Important Considerations When Choosing a Tire Brand
You will want to consider how well the models of tires being offered fit and match your particular vehicle requirements - does the manufacturer's goals align with yours? How readily available are replacement tires - if you get a flat, can you find a replacement tire in a pinch? Where are the headquarters located? BFGoodrich, while owned by Michelin (a French company) is a US brand from the get go - who are you supporting when buying tires?
See our overall recommendations for Best Tires
See our recommendations for the 10 Best Tire Brands for 2022
FAQ
How long do BFGoodrich tires last?

Because all out performance is the name of the game, overall tire tread longevity takes a back seat to high levels of grip and durability under extreme conditions.

What size of tires does BFGoodrich offer?

Sizes range from the 185/60R15 in the Advantage T/A Sport to the massive 37X13.5R20LT in the Mud Terrain T/A KM3.

What brands are comparable to BFGoodrich?

Goodyear, Firestone and General are competitive brands to BFGoodrich.

Where can I buy BFGoodrich tires online?

You can easily find BFGoodrich tires on popular online retailers such as Tire Rack and Discount Tire. Read more on the Best Places to Buy Tires Online and Save Hundreds here.

Are BFGoodrich tires good?

Yes, BFGoodrich has tires considered by many to be leaders in their segment. The All-Terrain T/A KO2 is a perfect example of a BFGoodrich tire that leads in its segment.

Is BFGoodrich part of Michelin?

Yes, the company was acquired by Michelin. The brand remains focused on motorsports, performance, and off-road tires, adding more depth to the already outstanding Michelin line of tires.
Editor's note and disclaimer: Car Talk is supported by our fans, readers and listeners. When you click on some of the links on our website, we may receive referral compensation. However, you should know that the recommendations we make are based on our independent editorial review and analyses.