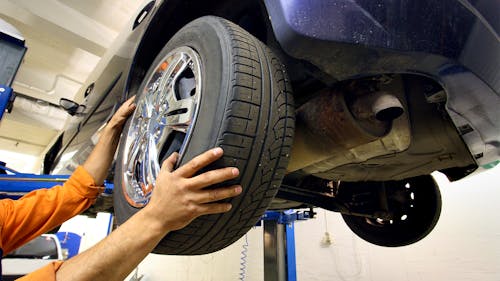 Our choices for the BEST online retailers in 2021 can be broken into three clear categories:
Online Retailers
Tire Brands
Brick-and-Mortar Retailers with Online Shopping
Most people buy tires the same way they did in 1959: They arrive at either a big box retailer or a local tire specialist, read the 30-year-old copy of Road and Driver and drink the 5W50-weight coffee burning on the bottom of the coffee pot and drive out hours later with a fresh set of rubber mounted to their car. You can still do it that way, and there are still some good reasons to -- we'll get into that later -- but you're really missing out on some great deals and some fantastic advice if you're not shopping for your next set of tires online.
Our Favorite 6 Online Tire Retailers
Shop Tires Online and Save
Online tire prices are usually less than in store
Powered By:
Tire Rack - Tire Rack is simply the king of online tire retailers. The Indianapolis, Indiana-based company got its start mail ordering tires through multi-page ads in all the enthusiast magazines. When the internet really began to take off, Tire Rack was the first retailer to capitalize on the fact that we were all goofing off online when we were supposed to be working. We bought our first set of winter tires through Tire Rack back in 2000 for a 1988 Volkswagen Jetta and they seemed to arrive before we'd even ordered them. Their site is an amazing resource of everything you could possibly want to know about tires.

Discount Tire Direct - If Tire Rack is Coca-Cola, you could think of Discount Tire Direct as maybe not Pepsi, but definitely RC Cola. It got its start the same way Tire Rack did, selling tires out of multi-page ads in popular magazines. It was slower to capitalize on the internet, but still offers a ton of information through its website. It also offers a wider range of brands, from household names all the way down to brands you've never heard of before, and probably wouldn't want to mount on a car you intended to keep. Discount Tire's advantage over Tire Rack is that while it does ship directly to your house, it also manages a number of stores in convenient locations around the country that can handle the mounting and balancing duties.

Goodyear - Goodyear is unique from almost all of the other tire brands we researched in that it will allow you to purchase tires via its own website, and ship them to your door, or to a local Goodyear retailer. In all honesty, we haven't heard a lot of feedback with Goodyear's direct tire retailing, but this is a company with a legendary brand to protect. A search of some popular tire sizes indicates that they'll ship out a set of tires and have them mounted in two days. The downside with Goodyear is the absolute lack of anything other than Goodyear tires. Goodyears are generally great, but if you're interested in other brands, you'll need to look elsewhere.

Amazon.com - Amazon.com is relatively new to the tire business, but it's quickly making some headway against the more recognized brands. On the plus side, if you have an Amazon Prime membership you get free shipping, which is kind of a big deal with tires. Shipping at some of the other sites can be costly, but most have eaten the cost of shipping themselves and built that into the price of the tire. Selection is sort of a plus for Amazon, too, although we say that with a caveat. Amazon will sell you a quality tire from a brand you recognize, but it will also sell you off-brand garbage that you could only call round in the most generous sense of the word. Like everything else on Amazon, it's a caveat to the emptor.

NTB - NTB stands for "National Tire and Battery" -- the "B" added in 1997 when Sears consolidated Tire America and National Tire Warehouse and began selling its DieHard brand of batteries through the new chain. In one of a series of wrong decisions, Sears sold off the chain of 226 stores in 2003, leaving it to prosper ever since. NTB offers a wide range of popular brands and unlike some of its competitors, there aren't any weirdo off-brands in its stable. You can buy online via its website and have the tires shipped to you, or you can ship to anyone of its service centers to have the tires mounted and balanced, and your old tires disposed of.

Walmart - The retailing giant has been in the business of selling tires for years, mostly through its larger stores with garage facilities that can mount and balance your new tires, and dispose of your old ones. More recently, though, Walmart will sell you a set of tires through its website and ship them to your door for free. If you'd rather, you can have them shipped directly to a Walmart store where you can have them mounted, though not every Walmart store has a garage. The other thing to keep in mind with Walmart is that along with all of the nationally recognized brands, they also supply a startling number of questionable brands lacking anything to recommend other than the bottom-dollar price.
Why Buy Tires Online
There are at least five main reasons to choose an online tire retailer: price, selection, customer service, fast shipping, and excellent information:
Price - A lot of your purchase decision is probably going to come down to price. If there's a $50 difference between an online retailer and your local tire shop, that's probably going to be reason enough to select the online site. But it's usually not that easy. Recently, we were looking for an odd-sized 13-inch radial tire for a 1965 Corvair and managed to beat one of the major online retailers on price when you factored in the cost of mount and balance.
In reality, pricing on the most popular, brand name tires are going to be very similar from one place to another.
Selection - Here's where an online retailer can often beat the pants off of a local shop, even some of the larger regional chain stores. Say you've been reading reviews on winter tires. The Michelin and Pirelli offerings seem good, but the reviews for the Nokian Hakkapeliitta IIs seem like they're right up your studdable alley. The only problem is that you live in Jackman, Maine, and the closest Nokian dealer is 85 miles away. An online retailer will typically offer a wider selection than Joe Bob's Tire Emporium in town.

Customer Service - We're not knocking local tire shops at all, but a lot of online tire retailers have gotten customer service down to a science. FAQs can generally answer most of the simple questions, online chat functions allow you to ask questions and get answers instantly, and if you're more of a telephone person, you can ring up a customer support specialist during business hours and early on a Saturday.

Fast Shipping - A few years back, my wife bought a 2003 BMW 5 Series over the Christmas/New Year break. By the time we got it home and registered, I was two days away from boarding an aircraft with the Car Talk team to fly to Havana for a week (yes, work related). Hours after our flight was due to leave, a major winter storm was headed to Our Fair City, which would've left my wife stranded on the performance "all-season" tires the BMW is equipped with.
Tire Rack really came to our rescue. They shipped out a set of Michelin X-Ice winter tires, mounted on a set of aluminum wheels, and they arrived at our house in ONE DAY. It felt like all I did was think about ordering them and BAM, there they were in front of the garage. I put the new wheels and tires on in an hour and left for my flight knowing that while I was on my 10th Cuba Libre in a cafe in Havana, Lisa was home shoveling out a car that could get her to work safely and confidently.
Excellent Information - The least appreciated aspect of a lot of online retailers is the volume of information they provide on available tires. Knowing nothing other than the year, make and model of your car, you can research the original equipment tire, suggested replacements, winter tires, and reviews from people who have paid their own hard-earned money for them. Even if you decide to purchase from a conventional brick-and-mortar retailer, there's no substitute for the information you can glean from an online retailer's site.
Why We Like Our Recommended Online Tire Retailers
Collectively, we've got more than a century of experience buying tires for everything from the cheapest high-school beater to relatively expensive sports cars. We've purchased tires from just about everyone you can imagine, including the local gas station, and even once a towing company.
But we're also interested in how people like you buy tires, so we looked at a range of review sites, plus the Better Business Bureau to determine whether these online tire retailers are on the up-and-up. There are plenty of unsavory sites that come up on a Google search, so we wanted to help you avoid those sites and focus on the ones that can truly help when you need to buy your next set of tires.
We also surveyed price, ease of use, the information available, the estimated time until you'd get your tires, and whether the sites had an affiliation with a local shop where you could get your new skins mounted.
Shop Tires Online and Save
Online tire prices are usually less than in store
Powered By:
FAQ
Where do I shop for the best price?

That can fluctuate from week to week. You need to not only be aware of the price per tire, but also the price for mounting and balancing, and any shipping costs associated with getting the tires to you. Also, be aware of any rebates or incentives that a tire manufacturer is offering. We've seen "Buy Two, Get Two Free" deals that can really impact the overall cost of tire replacement.

How much is shipping going to cost?

That entirely depends on where you're shipping it to and from. If you're shipping it from California to Boston, look for prices in the $1,200 range. Shipping from Florida to Boston is a lot cheaper, because the miles are cut in half.

How long does shipping take?

The gold standard should be about 36 hours. Seriously. If you live in a major metropolitan area, chances are good that the tire retailer has a distribution center nearby. As long as you've purchased a fairly popular type and size of a tire, those tires should be at your door before two days is up.

How do I get my tires installed once they arrive?

Online tire retailers like Tire Rack have relationships with a wide range of shops in your area that will install at an agreed-upon rate. Tire retailers like Walmart or NTB will install at their shops for a competitive fee.

How much does it cost to install a tire?

Typical mount and balance fees -- and you should never mount a tire without balancing it -- runs in the $40 range PER TIRE. Sometimes shops charge a steeper rate to mount 40 or 35 aspect ratio tires because their narrow sidewalls make mounting a challenge. Disposal usually costs about $5 per tire, and valve stems are around $1 per tire.

Do I need to replace tire pressure monitor sensors when I swap tires?

No. As long as your TPMS sensors are working properly, they don't need to be replaced. If they're malfunctioning, a tire retailer can't install new tires without servicing the TPMS sensors. Now that the aftermarket is supplying TPMS sensors, it's a lot less costly to replace them than it used to be.

Can an online tire retailer help me with winter tires?

Absolutely. It's one of the things they do best. Pay close attention to the reviews from people who have actually purchased those tires. Those reviews can make the difference between confidently attacking winter and timidly setting out on tires that don't really do the job.

Does it make sense to buy a wheel and tire package from an online retailer?

Yes. When researching winter tires, or if you've decided you just need a change in the aesthetics of your car, do yourself a favor and look at tire and wheel packages. You can often get a package of tires mounted and balanced on a spare set of wheels for what it would cost you to just have the summer tires removed and the winter tires installed. The investment in wheels will definitely pay for itself within two seasons, and if you're handy at all, you can just mount the wheels and tires in your own garage when they arrive.

Do online tire retailers provide tire rebates the way traditional stores do?

Absolutely. That's why it's good to shop around to a few different sites to be sure that you're getting the latest rebates, though. You can also visit the websites of the tire manufacturers, or see the rebates at CarTalk.com for the very latest rebates.
Editor's note and disclaimer: Car Talk is supported by our fans, readers and listeners. When you click on some of the links on our website, we may receive referral compensation. However, you should know that the recommendations we make are based on our independent editorial review and analyses.